Day 116 Bauen to Altdorf
The weather forecast this morning was quite detailed but could be distilled down to the phrase 'bucketing down all day'.  Wet weather looks more interesting than does clear weather in a photograph but on balance fine weather is more enjoyable when out for a stroll.
Very reluctantly we got into the wet weather stuff and, with a merry song on our lips, set off. Just like yesterday, the sun came out after about twenty minutes and the scene was transformed. As we strolled yesterday we had to tread very carefully as hundreds of little frogs, about as big as a thumbnail, were hopping across the footpath. The little blighters were at it again today, causing us to hop about as well.
It looked as though we might as well just take off the wet weather stuff and then allow the sunny spells to dry us out.
The volume of water pouring down from above was a clue to the quantity of water which had fallen in the thunderstorm we had had overnight.
The path ran alongside the lake and alongside the road but inside a tunnel for about 1km, occasionally popping out for a breath of fresh air. In the sections where it emerged into the air some nets had been thoughtfully provided in order to protect any rocks which might fall from injuring themselves.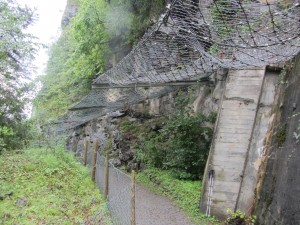 The rain started once again after we had emerged from the shelter of the tunnel but we followed the new policy of not putting on wet weather gear and carried blithely onwards. Up ahead of us on the path we could see a party of younger people with heavy rucksacks crawling along in the rain.  By now we realised that the new policy was a dud but there was no shelter anywhere in which to take off the wet stuff and put on something dry, warm and waterproof.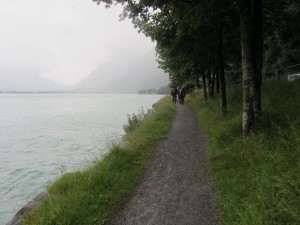 Hastening onwards with no  sign of a shelter we could see Altdorf in the distance. It was then that we spotted a mining museum at the side of the road which had an inviting canopy. Having scuttled under this canopy we threw caution to the winds and changed into dry tee shirts. The museum helpers seemed amused by all of this and they also seemed amused by our project.
Altdorf looked very nice, even in the rain. We were expecting to see Willhelm Tell shooting an apple off his son's head but we had obviously missed it.
Tonight we are in a guest house above Altdorf in a village called Eggberge. No road up here just the cable car and some footpaths. At the moment there is a lot of low cloud outside so we are doing some paper work hoping that the clouds will lift and we can go for a romantic evening stroll later on.