We had decided that we would stroll a little further yesterday in order to make today's stroll a little shorter. It was just as well that we did make yesterday's stroll a bit longer as it turned out.

Where the path begins above Capo Lago
We set off today in a reflective mood as it has been just over four months since we set off from Gravels Bank, in the snow, with little idea of what lay ahead and today we would cross the order into Italy. The path started with a nice flight of steps just past a lovely row of cottages….

Final glance backwards towards the lake
Having climbed up to the path it turned into a very nice flattish section of asphalt on which we could stroll along without much effort. Today's stroll was turning out just as we had expected that it would.
…
It is quite astonishing to be walking along a quiet leafy rural lane in complete tranquillity yet, as one can see on the map, there is industry and a motorway only a few hundred yards away.
The sun was getting hotter and hotter and we began to think about getting some lunch. We had not made a picnic as we were to be passing through villages where we would eat.
Until today the path signs have been very good indeed. I may have mentioned the odd shortcoming on occasion but navigation has not been too difficult but today navigation was a nightmare. There were very few signs to be seen and the places mentioned on the signs were of no use. We seemed to be wandering around in a haphazard manner and I was becoming very hungry and, hard to believe I know, quite irritable.
We found a path going in, more less, the right direction and followed it downwards into a huge rocky basin in which was the enormous concrete skeleton of something industrial. It was here that we ate the few crisps we had and some slices of cheese. Fortified to some extent we ploughed onwards. We still were short of Chiasso and the Italian border and beginning to flag.
We eventually found our way down into Chiasso, the last town in Ticino, and the frontier with Italy. We were quite excited to be passing through the customs post and to step onto Italian soil. As it had been at Basel, we weren't asked for a passport, or had our belongings searched we just strolled on through.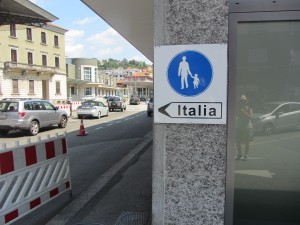 Now we were over the border and could make our way to our place of rest in Como. There was to be no choice as to which way to go so we followed the main road. After a while we deviated from the main road in order to find a quieter and more pleasant road. Usually we get this sort of thing right but this time we got it wrong. The road was bendy, narrow and had no pavement. The road also had lots of traffic moving at quite a speed. the motorists must have though that we were totally mad to be on such a road. In order to give the drivers a sporting chance at missing us I held out my hand waving my straw hat. We did pass the lake and it looked fabulous through the trees when we found the courage to look away from the road.
Janet had organised the hotel and had taken the precaution of writing down its name and also had drawn a sketch map. Once we had got into Como it took just a few minutes to find our bed.
I am writing this with my feet soaking nicely in the bidet. It is very hard to believe that we have made it to Italy although we still have a long way to go before we have done strolling.