Tonight's effort is going to be a somewhat abridged affair as I'm still trying to sort out the technical problems, although I think that yesterday and today now have maps.
Last night as it was fairly warm we had the window of our bedroom open. At about 9:00 pm some bloke outside tapped on the window and made some unintellible noises. It is quite possible that these could have been friendly overtures but the tones didn't sound particularly friendly so we hastily shut the window and, in the best British manner, pretended that nothing had happened.
Last night I spent ages trying to get our mifi gadget to work with the French sim, no luck at all. The thing works in Italy and also in Britain with loads of different carriers. Here in France? Not a chance!
The failure to get the mifi device working meant that instead of setting off for Ardres at a reasonable time this morning we headed into Calais centre ville again. In the France Telecom shop at one point there were five people trying to get the device to work. In the end they found an English speaking helpline and rang it for me. If the helpline they rang was a helpline which helped mobile users then I am sure that things would have moved forward smartly. Shame in many ways that it was for fixed lines only. My eager helpers gradually dwindled down to one bemused sales person who shrugged helplessly when all had failed and only raised shoulders and eyebrows were in evidence.
We returned to our hotel at about midday and had a drink before putting on our rucksacks and heading towards Ardres. I have been using a small daysack so that I don't have to have my large rucksack for shopping and so forth. today to save time I couldn't be bothered to empty the thing and, instead, I lashed it to the outside of my rucksack. What a stupid, stupid thing to do! After about 5 miles I was in a state of desperation and dilapidation, the balance and weight of this illmatched pair were terrible. I should have stopped and sorted it all out but didn't of course.
We ate lunch in a very nice, inexpensive, restaurant. A very friendly, substantial, lady in charge. Delicious steak hashe de cheval with a portion of pommes frites as substantial as the lady in charge.
This part of France is full of waterways which simplified our choice of routes today as we could not criss cross the countryside if there were no bridges to allow such incontinence of purpose.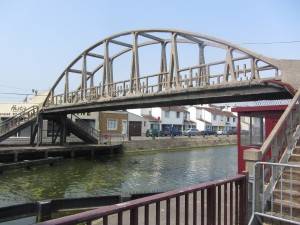 We strolled on and on, and on and on, France is completely flat here so the roads and paths are arranged in long straight lines.
The good old rolling English road created by the good old rolling English drunkard has much to be said of it.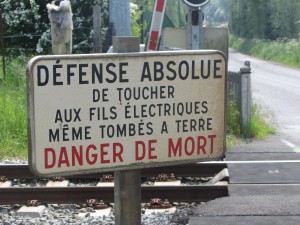 Arriving in Ardres at about 5:30pm we had just about had enough of walking. It had been hot and sweaty and, but for the French custom of free use of verges for convenience, it would also have been uncomfortable in the extreme.
We found a bar and refreshed ourselves willingly, the owner telling us where we might find a bed. The hotel is comfortable and we have dined well this evening on traditional French food. The people on the next table were a mother and son. The son was about 40 years old and the mother? Who knows? The son told me, amongst other things over a glass of cognac, that he enjoyed flying model gliders and that he intended to buy a new one as the one he used now was old and tired. He also told me that he was getting a new wife as he had been married for ten years and the new woman wanted to learn how to fly model gliders.
Tomorrow we are probably going to attempt to start strolling at 7:30 am, better go to bed I think.
Today's stroll, looks a bit odd but it involves the stroll into Calais to talk to france telecom