Day 51 Ardres to Bonningues-les-Ardres
Yesterday's stroll was largely enjoyed in the heat of the midday sun due to the late start caused by another meeting with France Telecom. The problems are not yet completely at an end as, on looking through the small print of the sim, before I can recharge the little tyke I must send a copy of my passport and some other stuff to France Telecom.
We resolved to start strolling much earlier today in order to have a cooler balinade. In Italy the bars open early so that people can have a quick coffee and brioche before setting out for work. We wondered if the same custom operated in France. We arose at about 6:30am and, after washing and dressing, left our key and left the hotel on a bar hunt, we hoped that we would find a big one.
The town centre wasn't full but neither was it empty. Children were going to school and the baker was doing a steady trade with people collecting their bread, croissants and brioches. The bars were all shut so we decided to buy bread and a croissant and to then find a seat on which to sit and wolf down our purchases before getting started on the day's adventure.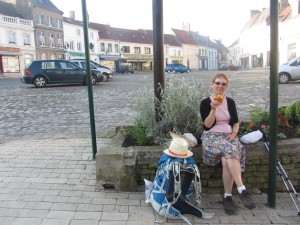 Today has been the day of kindnesses. As we looked for a seat a youngish bloke, in his 20s I should think, came out of the door of the baker's and, seeing our packs, wanted to know what we were doing and where we were going. After a little while he said "Avez faim?" We said "Oui." He then said "Don't move, stay here." He went back into the baker's and came out with a bag containing 3 warm, fresh, brioches. He bade us a cheery "Bon chance" and we parted.
We eventually breakfasted sitting on a low wall in the town centre. The brioches were perfect and we made very short work of them.
In order to get to today's destination we were looking forward to our first taste of a GR, a grand rendonner.
As Ardres retreated behind us the road became narrower and we stopped to consult our map to make sure that all was well. A chap stopped his car and gave us heaps of  useful advice about roads and paths.
Eventually we found a small wooden arrow pointing towards a track in a field, we had found it.
The GR felt very much like the long distance routes in the UK. Strolling among the fields and over hills is what we really enjoy and we had it in abundance today for the first time since arriving in France.
It is quite obvious how much further along the seasons we are here in France.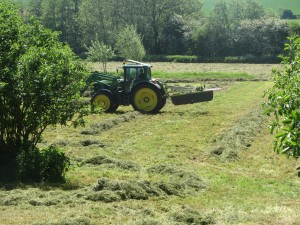 We approached our destination, Tournehem-sur-la-Hem, looking forward to some lunch and getting our bed for the night arranged. We were early and found a nice cafe for a beer and a sandwich. As we ate and chatted to Mme Doyer, we asked her if she knew of anywhere to stay, she told us that there was an hotel and a chambre d'hote.
Second kindness coming up, Mme Doyer rang both the hotel and chambre d'hote without being asked but had some disappointing news for us. There is to be a basketball competition this weekend and all of the rooms in the town were full. She said that there was a chambre d'hote in the next village which we could try. This news came as a bit of a blow but, fortified by jambon, fromage et biere, we set of into the unknown and the, by now, hot sun getting hotter by the minute it seemed.
On getting into Bonningues-les-Ardres we sought out the chambres d'hote, nowhere to be seen, despair. We found a tabac which doubled as a bar and was also a place where vegetable seeds could be purchased. The lady behind the counter served us our beer and we asked if there was a chambre d'hote in the village. It was at this point that our language skills started to fail. The only way to understand the directions was to draw a sketch map. Leaving our bags behind us we set out once more, sketch map in hand, hopes not too high but, where was this chambre d'hote? In desperation we stopped the only person we could see, a man in a smart business suit, to ask where the place might be. He seemed delighted that we were British and took us straightaway to our destination. Le Manoir, a very grand house set in its own grounds with an imposing entrance. We feared that it would be another bust as madame looked to be very busy. The man in the suit greeted her and explained our situation. She had a room! Would we come back a little later? Of course we would!
We had an enjoyable conversation with a chap back in the tabac, not too sure what it was about but it was obviously friendly as we all parted on good terms, shaking hands and being patted on the back.
Le manoir is lovely, we arrived and slept for an hour or two then went down to dinner. We enjoyed an aperitif made by the proprietors, blackcurrent, ginepre and cider, delicious and drunk sitting on the lawn with occasional visits from the dog.
We dicovered later that madame's brother had a farm and that the beef  we had been eating was charolais crossed with blonde acquitaine, home produced and delicious.
We wandered about quite a bit today so the map goes all over the place. Lets hope we don't have to call on the priest for sanctuary tomorrow night.