Day 53 Wisques to Aire-sur-la-Lys
We arose in our monastic simplicity this morning and went down to breakfast at the Abbey. The rules of the order suggest that guests might care to eat breakfast in silence. We ate in silence, quite a  challenge for us.
After packing our rucksacks ready for the road once more we wandered about the abbey looking for father hospitaler in order to make our contribution for having enjoyed the short retreat at the Abbey of St Paul at Wisques.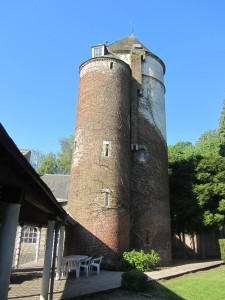 The father was nowhere to be found so, after talking to the other two people on retreat we put the contributions and a note under his office door.
Today was always going to be a challenge as we had no proper map. All map shops seem to have been shut or did not stock the necessary maps we needed. We felt that we would have to manage with the sketch map picked up in a bar and the gps device. Being optimists we set off along the main road to Wizernes, which looked as thought it might lead us onwards. Stopping at a crossroads we peered left then right then at our meagre geographical resources. A chap stopped his car and asked us where we were going and did we have a map. He looked surprised when we described the journey we were intending to make and at the weak mapping we were using. He warned us to use a different road as the one we intended to use was dangerous.
Walking along roads instead of footpaths became, very quickly, quite tiresome. Watching out for traffic and the reflected heat from the road surface was starting to make the stroll less enjoyable. The GPS suggested that there might be a path we could use somewhere ahead so we looked for it and eventually it appeared at the end of a terrace of houses. We needed now to look at the GPS and the feeble map in order to check that we had a possible winner. We took off our packs and sank to the grassy bank grateful for a rest. It was at this point that I realised that I had left my walking poles in a bus shelter about half a mile back. "Well, blow me!" I said to Janet. "I had better go back and get the little blighters!"
We appeared to be managing quite well without a proper map as the paths seemed to be going in the right direction.
I decided that we shoukd consult the GPS to make sure that all was well when the little tyke told me that it needed to go to sleep as the battery was flat, no map, no gps, that made us feel flat as well. "Still." we said cheerfully "Good chance this path will get us there!" We followed the signs along leafy lanes, through woods etc for quite some time.
We felt that we must be near to our place of rest and confidently asked a passing cyclist how far from Aire were we. "About 8 Km" she replied cheerfully. We sat under a hedge and I got out the laptop and managed to recharge the GPS enough for us to get a fix. The cyclist was absolutely bang on we were going in the wrong direction and were 5 miles from our bed with an hour in which to get there.
With packs and, in the hot sun, having already walked over 18 miles we thought that 5 miles in an hour without a map would be tricky. Thankfully the 'phones were working so we could ring the hotel and seek advice. The receptionist was happy to leave the key and the fob for the main door in an envelope in the green bin by the main door, saved again.
We decided to get a move on and stop strolling until we got to Aire.
A woman in the square in a bar at Aire-sur-les-Lys told us where to find the hotel. After a while Janet zoomed off ay high speed, unburdened, and left me to nurse all our worldly belongings and a cool glass of beer.
The map below is a bit odd as loads of detail is missing where the gps conked out.